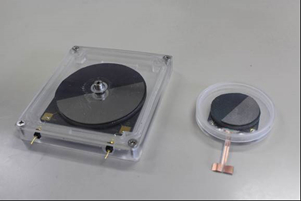 On the joint research with Professor Yuji Suzuki of the University of Tokyo, Department of Mechanical Engineering,our company has developed small disc type rotational electret energy harvester. and exhibited on CEATEC JAPAN 2015 held in October, 2015.
In accordance with daily motion of human body or arm's light motion,disc in this device rotates and generates electric power.
The device uses Electret material, which is electrically-charged insulator semipermanently.
Mechanism to generate electric power is by rotating rotor on which electret electrodes are formed on stator on which interdigital electrodes are formed. By fabricating these components using MEMS (Micro Electro-Mechanical System) technology, it is realized device of small size, thin profile and light weight, yet generates large power.